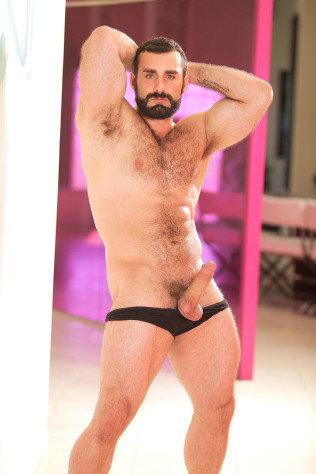 Pornstar Jaxton Wheeler
If you're looking for a handsome, beefy boyfriend for your fantasies tonight, look no further than Jaxton Wheeler. With massive arms and a barrel chest, Jaxton is huge everywhere it counts, giving you a hard dose of big dick gay porn. His hairy upper chest, short brown hair, and tidy beard make this one hunk you just know could take you home and treat you right.

Asked what kind of scene he fantasizes about doing, Jaxton said:

"I think what would be cool is four plus guys riding each other at the same time, kind of stacked on each other. Put the muscle guy on the bottom and twins towards the top… I'd like to get into fuller roles as well. More story line, more props, more costumes."

Want to imagine putting on your own private show with Jaxton? Fantasize about him as Tonight's Boyfriend, with our exclusive gay porn videos.